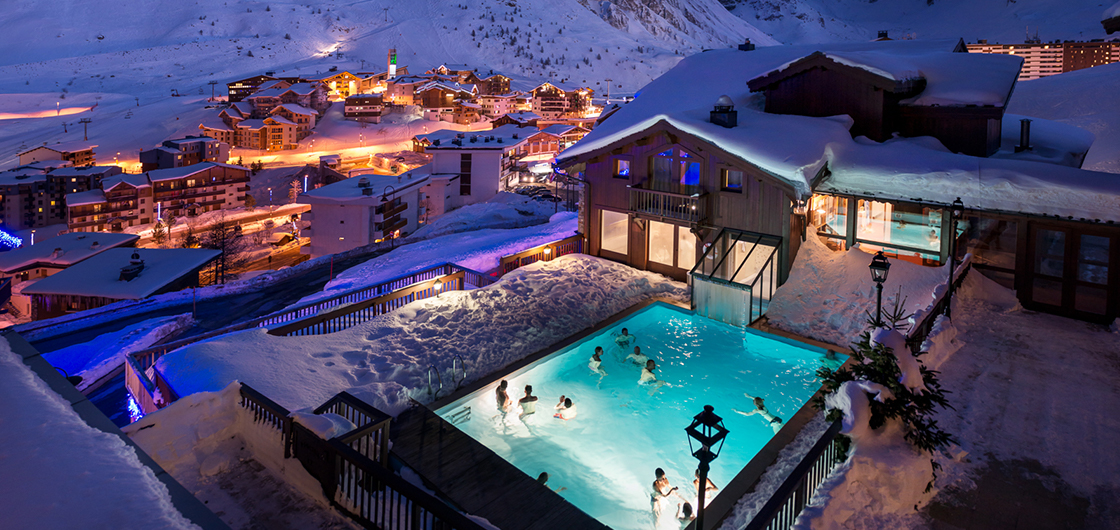 Swim beneath the snowflakes...
Snowflakes are dancing around outside and the temperature is close to -10°C. In the water, a bubble of 35°C softness envelops you. Discover the outdoor swimming pools in Tignes and enjoy a magical experience swimming in a dream location!
A MAGICAL INTERLUDE
5 pm. Skiing has finished for the day. You are feeling (a good) tired, but the children are already hassling you: "When are we having dinner?", "We're racing tomorrow!", "Can you carry my skis?", "I'm tired…".
STOP ! Today, you can let your other half go and buy the cheese for tonight's fondue, shoot back to your room to grab your bikini then slow down and enjoy a magical interlude.
Picture the scene: the mountains you were tearing down at full speed an hour ago have turned into a magical interstellar scene lit up by the stars to be savoured alone or with that special someone! In the end, the decision is made: shopping for the fondue can wait until tomorrow, your other half is cordially invited to join you in the pool!

THE BODY relaxes, the mind is calm
Gloves first. Then hat and scarf, followed by ski jacket and ski pants, ski socks then thermals. It feels so good to release your body, layer after layer and slip into your swimming costume without having to wait for summer!
The chilly air makes your cheeks rosy but your body melts into the water like a marshmallow in hot chocolate… A breath-taking but welcome contrast after the efforts of the day. And when the body relaxes, the mind follows!
TOTAL relaxation
All of a sudden, snowflakes begin to fall. The incessantly ringing phone becomes a distant memory! You are focused on what matters: savouring the present moment in a dream setting. Time for some meditation or babbling about the incredible stars? It's up to you how you enjoy this moment of indulgence dedicated entirely to your well-being.
GOOD DREAMS GUARANTEED !
Ready for more? What about treating yourself to a body treatment or facial to increase the relaxation effect tenfold! Body scrub, Californian massage, reflexology, hot stone massage… As final tensions melt away, they are replaced by a feeling of intense weightlessness, you are at one with yourself: and that's what we call a successful holiday! Goodnight!
OÙ NAGER EN EXTÉRIEUR ?
Et pour les plus frileux, le bien-être se savoure aussi en intérieur ! Découvrez l'offre détente de la station de Tignes.