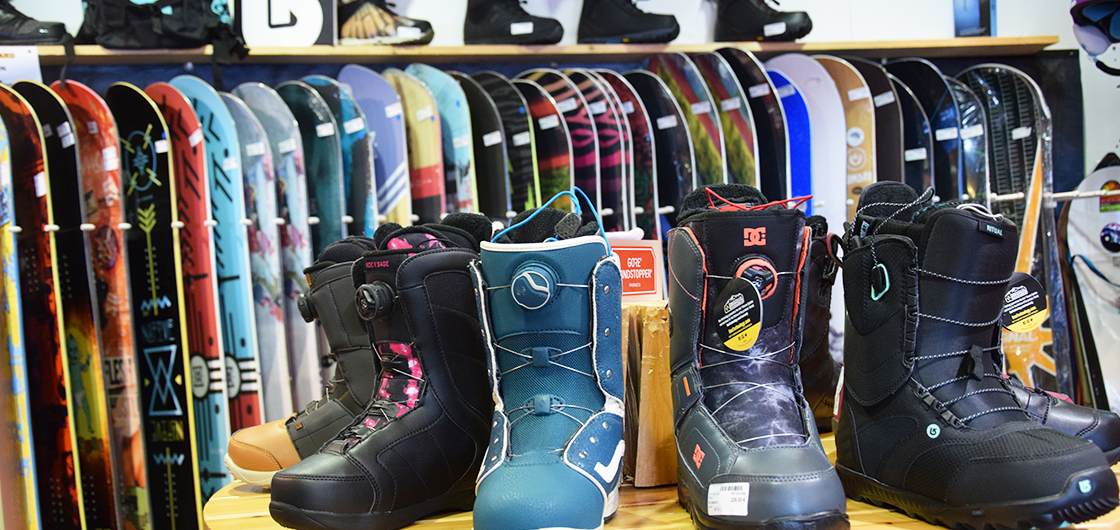 Advice from the pros to help you choose the right snowboarding equipment
Feeling a bit lost reading the many test reviews online? We went to speak to two snowboarders in Tignes, Loulou Mauranx and Alexis Krieg, so that they could give us their advice on choosing the best equipment. Here's their guide!
A good snowboard specialist won't be waiting for you to ask questions: they will be asking you all about your ability !
Are you a beginner? Intermediate? Advanced? Did you hire your last snowboard? Did you borrow one from a friend? Can you remember the make? The feeling? What do you want to do on your board: ride on piste, little jumps, freeride, a bit of everything? What's your budget? How much do you weigh? What's your shoe size? How many days a year will you use your board?
Before finding the perfect board for you, a specialist will give you the third degree! No trick questions: it's just to understand your needs so that they can help you find THE board of your dreams. There's no point using vocabulary that's too technical (unless you're already an expert): it's the best way to make a mistake and then be given the wrong advice. Some examples of this we've heard in the shop: "I'm boofy" (instead of goofy), "I'm great in switch" (instead of switch).
Bindings? These are not just an accessory!
Bindings help transfer energy: they are not just a simple addition once you have chosen your board. On the contrary, they must be carefully chosen in line with the board on which they will be mounted. So, don't forget them when calculating your budget!
Have you chosen a stiff board? Then your bindings will also need to be stiff so that you can steer your board. A soft board will support soft or more rigid bindings (for those with a good enough level).
A new pair of boots? You should never try them on and say, "Wow, the are amazing!"
On the contrary, you are likely to think "OMG, the next 15 minutes are going to hurt"… And that's normal! Your boots have to support you properly. Just like ski boots or climbing shoes, they will seem too small for you when you try them on in the shop. It will take at least 2 or 3 days to get used to them. You should buy a pair of boots with your eyes closed, trusting your sensations: do they feel really comfortable? Then they're too big! Do they feel like they support you well? Then go for it, they're the ones for you.
When it comes to lacing systems, we recommend single pull lacing with zonal tightening. Three advantages:
Precision: zonal tightening allows you to adjust the ankle and calf support separately. This is ideal if you have a narrow ankle and a wide calf, or the opposite.
Speed: there are just two handles to pull, it's dead easy!
Ease of replacement: in contrast to a dial that is difficult to replace if it breaks (in particular with the cold), laces can be replaced easily.
Be careful of forums and endless tests!
Imagine this: you read a really negative review of a board without knowing that the rider wasn't as fit as you, preferred to ride on different terrain to you (piste/freeride for example), and what's more, they did their testing after 6 full and tiring days of riding (and a fondue every night). In these circumstances, it's hard to know if the board would suit you or not! It's the same if you read the pro riders' snowboard test reviews…
If you really want to test your equipment before you buy it, limit yourself to three tests in two hours for example. This will allow you to compare the boards in similar conditions (quality of snow, fatigue etc.).
A few more tips from our snowboard specialists
Alexis Krieg, Black Cats : « A board that is too stiff for your ability will knock your confidence and hinder your progress. The board you have been dreaming about may not be suited to your physical condition or what you like doing. Sometimes you may find you need to go down in the range to find the best board for you to have fun with. Trust the specialist snowboard sales assistants: they are passionate riders who have been getting out there in their spare time for years and they know their subject like the back of their hand! »
Loulou Mauranx, Snödroppe : « Be careful of making a purchase online: not trying, especially the boots, is the best way of getting the size wrong. Then you risk having a bad fit and blisters etc. In a shop, you have advice and after-sales service, and even the same prices as you would find online (contrary to popular thinking). And don't forget socks! Not a minor detail when you are spending the whole day in them… ».
A bit of vocab for you :
Pop: this is the amount of spring that the board has, the stiffness of the longitudinal flex.
Camber: this is the curve of the board. A board with camber has fewer contact points with the snow than a flat board (so less grip). The shape of the camber is therefore linked to the type of snowboarding (on piste, off-piste, snowpark etc.). Double camber? A marketing ploy to be forgotten…
Responsiveness : a responsive board is a board that, in its shape and construction, allows you to move quickly from edge to edge.
Freestyle : be careful, in the United States, they use the word "freestyle" to mean "all-mountain" (whereas in France, the word has more of a connotation with snowparks)
Jibbing : a jib board is a board with more flex, with an almost flat base that's ideal for doing small jumps, rail slides etc. A board for the snowpark!
Wide : A "wide" board is a wider board, suitable for riders with bigger feet.